The wear and tear of parts from vintage guitars that were manufactured few decades ago can cause functionality problems. What vintage guitar users fear the most when these parts need to be replaced is if it will cause the sound to change significantly.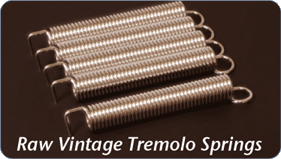 RVTS-1 (5-pc set)
Wire Diameter : 1.3mm
Overall Diameter : 8.86mm
Nickel Plated
MSRP: $27.00/set
Tremolo Spring is a part just as vital as the saddle and they are responsible for the fat sound of the 50's and 60's Stratocaster. Most newly manufactured springs have different characteristics from the vintage. They are hard with strong tension.
As one of the raw vintage product, we researched the vintage and matched the tension of the spring. And with the prerequisite of using 5 or 4 springs together, we were able to achieve superb torque feel and stabilized arming that were made possible from the difference in weight and contraction percentage. And with the increased weight, we were able to create Fat Tone.
These can be used as a replacement parts for the new reissued guitars, enabling their owners to enjoy the characteristic closer to the original.
We recommend you to use this in set of 5.

Pure Steel Saddle & Springs leaflet 2012 PDF (4.3MB)